PROPERTY WEEK 2nd November 2018
Multi-let industrial specialist Ribston is gearing up to launch its second fund next year having invested all the equity it raised for its debut fund.
Ribston raised £75m for Ribston UK Industrial Property Unit Trust in December 2016 from clients of Aviva Investors Real Estate Multi Managers, which is being acquired by LaSalle Investment Management, and has since raised £42m for the fund from the same source.
The firm, which was founded by former Ashtenne colleagues James Havery, Mark Ovens and Joe Havery, has invested all the equity in 35 properties across 33 deals mainly in major cities such as Leeds, Birmingham and Bristol.
Most of its acquisitions have been under the £5m mark. Its largest deal was the purchase of Taylor Business Park in Warrington for £19.2m in September.
It is now using a debt facility from Barclays to make further acquisitions and release equity from the portfolio. In total, it has acquired about £140m of property.
James Havery said the loan gave the company the flexibility to continue investing without having to raise fresh equity before Brexit. Ribston is planning to launch a second fund once the UK leaves the EU and will fine-tune the investment strategy depending on market conditions at the time.
In an investor note, Ribston said that launching its fund in the year of the EU referendum had made a profound impact On it's approach to investment.
The firm said that as a result of it's careful approach to stock selection, it ended up acquiring properties via single-asset deals rather that portfolio transactions.
The company had homed in on properties that were "capable of making the most of the strong occupational market" and were "well placed to guard against any shift in sentiment or demand from occupiers" it added.
Ribston is sceptical about the view that all industrial property is set to benefit from the rise of ecommerce. "Our view is that not all industrial property will permanently benefit from this trend" it said.
"Some inevitably will but our view is that poor property is poor property and the best prospect for long and sustainable performance is to avoid it."
It added that "unlike a growing number of commentators, we still refer to industrial estates as industrial estates" and that "not all industrial is urban logistics'!
Property Week - 16th December 2016
New UK industrial firm launches maiden fund.
New firm formed by ex-Ashtenne trio wins support from Aviva for £107m fund.
Ribston, a new investment manager focused on multi-let industrial property, has launched a £107m UK fund.
The firm has raised £75m of equity for Ribston UK Industrial Property Unit Trust, which with gearing will have the firepower to invest up to £107m. The equity was provided by clients of Aviva Investors Real Estate Multi Managers, who were unit holders in two funds launched and managed by Ribston's management when they were at Hansteen.
James Havery and Mark Ovens (pictured centre and right) left Hansteen last year to form Ribston alongside Joe Havery (also pictured), with whom they had worked at Ashtenne, which like Hansteen was run by Morgan Jones and Ian Watson. The three founders are all directors of the new company.
James Havery said: "In a year punctuated by the Brexit referendum, it is particularly satisfying to launch our maiden fund. We now look forward to exploring opportunities that we believe the economic backdrop will present and deploying funds during 2017."
The new fund will target annual returns, after fees and expenses, of 10%. It will also look to deliver a capital return during its seven-year life.
Ovens said: "We are extremely pleased to re-establish our relationship with Aviva REMM, which shares our view that the forthcoming year will present interesting opportunities for well-capitalised investors."
John Gellatly, head of Aviva Investors Global Indirect Real Estate, Europe, added: "Our previous investments with the Ribston management team have proved very successful and so it is natural that we would want to shape a further investment club exclusively for the benefit of our clients with a partner with a strong and proven track record.
"Furthermore, we believe the market timing is propitious; entering a relatively high-yielding sector as cash buyers in 2017."
The Buisness Desk - 14th December 2016
The Buisness Desk

Ribston launches £107m industrial fund.
RIBSTON, a newly established co-investing manager specialising in UK industrial real estate which has a Yorkshire office at Bowcliffe Hall, has launched a £107m UK fund.
The firm has raised £75m of equity for Ribston UK Industrial Property Unit Trust, which with gearing will have the capacity to invest up to £107m.
Equity is being provided by clients of Aviva Investors Real Estate Multi Managers who were also unitholders in two earlier funds launched, fully invested and sold by Ribston's management when they were at Hansteen Holdings.
Ribston said the fund will seek to provide a "diversified and resilient income return" to unitholders together with a realised capital return during its seven year life.
It will target annual returns, after fees and expenses, of 10%. Net income will be distributed quarterly. Ribston, as the manager, will receive asset management fees and a performance based promote in addition to the return on its own investment.
James Havery, director of Ribston, said: "In a year punctuated by the Brexit referendum it is particularly satisfying to launch our maiden fund. We now look forward to exploring opportunities that we believe the economic backdrop will present and deploying funds during 2017. We are now very much open for business and believe that a disciplined approach to stock selection based on our management's wealth of relevant experience will lead to the fund being populated with properties that are well placed to out-perform at both an income and capital level."
Mark Ovens, director of Ribston, added: "As an entrepreneurial management team we have a strong track record of raising institutional money, launching and operating specialist industrial funds and fully repatriating equity with real performance. We are extremely pleased to re-establish our relationship with Aviva REMM who share our view that the forthcoming year will present interesting opportunities for well capitalised investors. Their continued support and the scale of their investment is testament to their confidence in both us and the sector and we look forward to working with them during the life of the fund."
Alistair Dryer, senior fund manager at Aviva Investors GIRE, said: "This is an exciting opportunity to invest alongside our partners Ribston, following two very successful funds managed by the team, when they were previously at Hansteen Holdings. We believe it is an opportune point in the investment cycle for our clients to invest in the industrial space, especially so with a management team of this pedigree."
John Gellatly, head of GIRE, Europe, added: "Our previous investments with the Ribston management team have proved very successful and so it is natural that we would want to shape a further investment club exclusively for the benefit of our clients with a partner with a strong and proven track record. Furthermore, we believe the market timing is propitious - entering a relatively high yielding sector, as cash buyers in 2017. We very much look forward to working together with our partners on this new venture."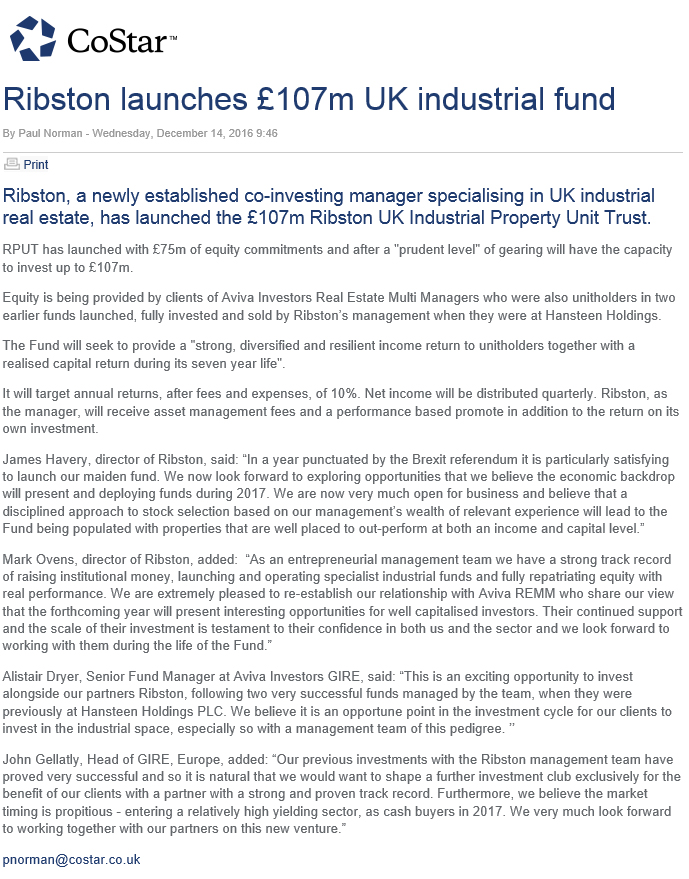 CoStar - 14th December 2016
Ribston launches £107m UK industrial fund
Ribston, a newly established co-investing manager specialising in UK industrial real estate, has launched the £107m Ribston UK Industrial Property Unit Trust.

RPUT has launched with £75m of equity commitments and after a "prudent level" of gearing will have the capacity to invest up to £107m.
Equity is being provided by clients of Aviva Investors Real Estate Multi Managers who were also unitholders in two earlier funds launched, fully invested and sold by Ribston's management when they were at Hansteen Holdings.
The Fund will seek to provide a "strong, diversified and resilient income return to unitholders together with a realised capital return during its seven year life".
It will target annual returns, after fees and expenses, of 10%. Net income will be distributed quarterly. Ribston, as the manager, will receive asset management fees and a performance based promote in addition to the return on its own investment.
James Havery, director of Ribston, said: "In a year punctuated by the Brexit referendum it is particularly satisfying to launch our maiden fund. We now look forward to exploring opportunities that we believe the economic backdrop will present and deploying funds during 2017. We are now very much open for business and believe that a disciplined approach to stock selection based on our management's wealth of relevant experience will lead to the Fund being populated with properties that are well placed to out-perform at both an income and capital level."
Mark Ovens, director of Ribston, added: "As an entrepreneurial management team we have a strong track record of raising institutional money, launching and operating specialist industrial funds and fully repatriating equity with real performance. We are extremely pleased to re-establish our relationship with Aviva REMM who share our view that the forthcoming year will present interesting opportunities for well capitalised investors. Their continued support and the scale of their investment is testament to their confidence in both us and the sector and we look forward to working with them during the life of the Fund."
Alistair Dryer, Senior Fund Manager at Aviva Investors GIRE, said: "This is an exciting opportunity to invest alongside our partners Ribston, following two very successful funds managed by the team, when they were previously at Hansteen Holdings PLC. We believe it is an opportune point in the investment cycle for our clients to invest in the industrial space, especially so with a management team of this pedigree. ''
John Gellatly, Head of GIRE, Europe, added: "Our previous investments with the Ribston management team have proved very successful and so it is natural that we would want to shape a further investment club exclusively for the benefit of our clients with a partner with a strong and proven track record. Furthermore, we believe the market timing is propitious - entering a relatively high yielding sector, as cash buyers in 2017. We very much look forward to working together with our partners on this new venture."
pnorman@costar.co.uk